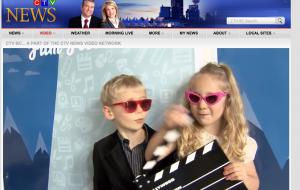 It's not every day that four-year-olds get the opportunity to make their own films. So when I heard that the preschool teacher at about West Point Grey Academy had been working for months with a former Disney animator and MAKE productions to create the city's first film festival for kids, I knew I had to help spread the word. It wasn't a hard sell. These kids are cute and funny and their unbridled creativity made for short films that were absolutely hilarious.
You can watch the news clip on CTV here.
And you can read about them in the Province here. Make sure to click the links at the end of the story to watch some of the young filmmakers work.