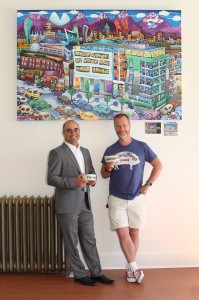 In PR, everything begins with a story. Identifying an overarching storyline for your business or your organization is the key to a successful PR campaign both in traditional and social media. In the real estate world, condo developers can sometimes find it difficult to identify what makes them unique, especially in Vancouver where there is so much supply.
Working with Imani Developments, the story quickly became clear. In such an artsy neighborhood, what could the developer do to foster a real sense of community and to support the existing community of artists? In a brainstorming session, we found our answer: buy local art and hang it in the sales centre and in the building itself. Because this approach is rare, and comes at a time when artists are not often supported by business, Vancity Buzz and the Georgia Straight picked up the story.
The story explores the city-mandated approach to public art with developers and how it compares to developers, like Imani Developments, buying art directly from the artist. What do you think of Shine's approach?