Ever heard of the term: thought leader? That's the fancy term bandied about by us PR folks for "becoming an expert." What it means is getting you – our clients – to become the experts in your chosen field in the eyes of the public. Basically, it means you become the ultimate go-to person when the media needs someone to talk about your specialty, whether it's real estate or high tech or fashion. But becoming a thought leader takes time and patience. Lots of time.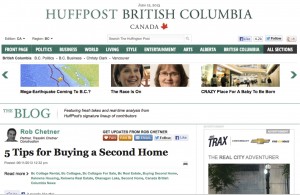 One of the ways to become a thought leader is to start writing about general interest topics in your field. For the Vancouver development team at Trasolini Chetner, I started to work with partner Rob Chetner to pen a series of columns on real estate for the Huffington Post BC.
What that involved was sitting down together to come up with a strategic content plan, and to begin coaching him on the writing process. Here's his first post. What do you think?